Production Information
Download the Registration Packet for important information and forms you will need to fill out and provide for your student's audition. Note:  it has been formatted to print double-sided.
We ask that each family sign up for one volunteer job and at least one chaperone slot to assist with the production. You will find the volunteer jobs summaries on the Sign Up Genius page (link below).
When you are ready to make your selections, click the Sign Up Genius link below and choose your volunteer job and chaperone slot(s). We will contact you via email within 24 hours to provide you with the link to sign up your students for auditions.
Cast of Characters List:  Please note that most roles can be played by boys or girls. The characters and script will be adjusted as needed following auditions.
Audition Prep Info & Tips (Click here for downloadable PDF)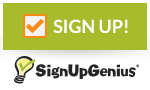 General Information
Weekly rehearsals are held Tuesday evenings with additional rehearsals scheduled on Saturdays. Click the Calendar link for schedule specifics.
Thirty minutes of each Tuesday night rehearsal is dedicated to a Bible study that relates to the show's theme.
A cast party precedes the final performance.
Reimbursement Form:  For use by C-MENT volunteers to reimburse expenses related to the production.
Scholarship Information
C-MENT Scholarship Request Form: Covers information re: scholarship requirements. Note:  applications for scholarships must be turned in prior to the time of your child's audition.
Thank you in advance for your help! C-MENT relies on the coordinated efforts of many people, both paid and volunteer. It's truly a working partnership between C-MENT staff, cast members/families and ultimately the audiences. The desired result is enriching experiences for all involved!
Questions? Contact the C-MENT Advisory Board.